Obituary for Opal Sanders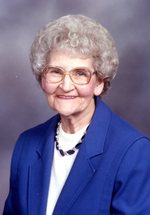 Mrs. Opal A. Sanders, age 91 years, of Jefferson City, Mo. passed away Friday, March 31, 2017 at Villa Marie Nursing Facility.

She was born on March 5, 1926 in rural Fredericktown, Mo., a daughter of the late Otto and Lora (King) Chapman. She grew up on a small farm and attended school in Fredericktown, Mo.

She was united in marriage on September 15, 1946 in Jefferson City, Mo. to D. Eugene Sanders, who preceded her in death on November 23, 1999.

Opal began her professional career working with International Shoe Factory. She and Eugene later moved to Kansas City, Mo. where they called home for the next 28 years. During that time Opal was employed as a clerk with the Credit Bureau of greater Kansas City, Mo. retiring in 1989. After her retirement they moved back to Jefferson City to be closer to family.

Opal's faith always played a central role in her life. She joined the Assembly of God faith when she was 17 years old and was an active member of First Assembly of God in Jefferson City. She never wanted to miss a service and enjoyed her Ladies Bible Study every Tuesday. She cherished the time she spent reading her Bible and being in prayer.

She was a very independent woman and loved her family deeply. She especially treasured anytime they were able to share a meal. She also enjoyed crocheting afghans, quilting, and working crossword puzzles.

Survivors include: her brother, Herbert Chapman and his wife Anita of Jefferson City; her sister, Beulah Hitt of Jefferson City; and a host of nieces and nephews that she adored.

She was preceded in death by her husband, Eugene; a brother, Thomas E. "Jack" Chapman; and three sisters, Nickie Anderson, Hilda Tatlock and Maple Bogg.

Visitation will be held at First Assembly of God from 9:30 a.m. until 11:00 a.m. Tuesday, April 4, 2017.

A funeral service will be conducted at 11:00 a.m. Tuesday, April 4, 2017 at First Assembly of God with the Reverend Lowell Perkins officiating. Graveside services will be held in the Mausoleum of Hawthorn Memorial Gardens.

In lieu of flowers, memorial contributions are suggested to First Assembly of God, 1900 Highway C, Jefferson City, Mo. 65109.

Order Flowers