Obituary for Stephen Bode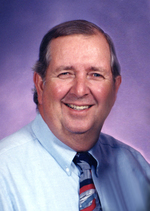 Mr. Stephen F. Bode, age 75 years, of St. Martins, died Monday, March 27, 2017, at Heisinger Bluffs, surrounded by family, after a long, hard-fought battle with Lewy Body Disease.

Steve was born September 16, 1941, in St. Louis, the oldest son of Fred F. and Esther M. Scheppers Bode.

He was married on May 1, 1965, at Immaculate Conception Catholic Church, to Kay Bryan, who survives at the home.

A resident of the Jefferson City area since 1945, Steve was a 1960 graduate of Helias High School and attended Lincoln University. He worked with his father at Fred F. Bode Floor Covering from 1960 until 1963, and again from 1967 until his father's retirement in 1981, at which time he formed his own business of Bode Tile and Marble, producing exceptional designs. He retired from construction in 1996 and became employed in a supervisory role with Missouri Vocational Enterprises, MDOC, until his retirement in 2005.

He enlisted in the United States Air Force, serving from 1963 to 1967 during the Vietnam War. After basic training in San Antonio, he was stationed at Perrin AFB, Denison, Texas, from 1963 to 1966 when he was transferred to Tainan AFB, Taiwan, serving with the PACAF until October 1967, when he received an honorable discharge. He attained the rank of Sergeant and was awarded the National Defense Service Medal and the Air Force Good Conduct Medal.

Steve served as Mayor of St. Martins from 1986 until 1991, during which time he acted as Master of Ceremonies for the dedication of the relocation of Highway 50 through St. Martins. He served as Mayor again from 1993 until 1995. He also served two terms on the City Council and was Chairman of St. Martins Board of Adjustments. He was also a Committee Chairman with the St. Martins Bicentennial Commission from 1974 until 1976.

He was a member of St. Martin Catholic Church; a charter member of St. Martin Knights of Columbus Council No. 7194; a former member of the 4th Degree, Knights of Columbus, Dan C. Coppin Assembly No. 573. He was also a member of the American Legion, Roscoe Enloe Post 5; a member of the Mid-Mo Old Car Club; a lifetime Missouri Conservation Partner; and a member of the National Rifle Association. He also had served as president and secretary of Apache Flats Lions Club, president of St. Martin Home and School Association, and was a member of the Board of Directors of the Jefferson City Jaycees.

He enjoyed retreating to the Lake on summer weekends, boating and fishing. Steve also liked hunting and golfing, the St. Louis Cardinals and the Kansas City Chiefs. He thoroughly loved watching his grandchildren participate in sporting activities. Most importantly, he cherished his time with his family and friends.

One of his most enjoyable activities was traveling to the Kentucky Oaks and Kentucky Derby on the First Saturday of May (winning some and losing more), for many years to visit special friends, Richard and Joy Hartlage, and their family, of Louisville, Kentucky.

Steve's creativity was always evident in areas such as cooking, art, humor and writing. His handwritten reflections and remarks to family members were among his most thoughtful gestures.
Survivors include: his wife of nearly fifty-two years, Kay Bode; two daughters, Elizabeth "Libby" Block (Jerry), and Melodie Tharp (James) of Jefferson City; one brother, Gerald Bode (Laura) of Rockton, Illinois; two sisters, Elaine Bode-Oliver (Del) of Jefferson City; and Sharon Bode Messimer of The Woodlands, Texas; six grandchildren, Devin Block (Nicole) of Ashland, Amber Block of Taos, Madison Routon (Ethan) of Eldon; and Esther Tharp, Cora Tharp, and Timothy Tharp of Jefferson City; five great-grandchildren, Alexus "Lexi" Stark, Eli Routon, Anniston Block, Laethen Block, and Montana Routon, and another great-grandchild due in May; ten beautiful nieces and grand nieces; sister-in-law, Mary Bode; and brothers-in-law, Richard Bryan and Charles Bryan.

He was preceded in death by his parents and one brother, James Richard Bode.

Visitation will be at Freeman Mortuary from 4:00 until 7:00 p.m. Monday, April 3, 2017, with a prayer service to be conducted at 3:15 p.m. in the Freeman Chapel.

A Mass of Christian Burial will be conducted at 10:00 a.m. Tuesday, April 4, 2017, at St. Martin Catholic Church with the Reverend Fred Elskamp officiating. Graveside services and interment with military honors will be conducted at the St. Martin Catholic Church Cemetery.

Those desiring may make memorial contributions to the St. Martin Catholic Education Foundation, the Vitae Foundation, or the Wounded Warrior Project.

Steve participated in the Memory and Aging Project with Washington University in St. Louis for several years and donated his brain for research purposes.

Funeral arrangements are under the direction of Freeman Mortuary.
Order Flowers