Obituary for Velma Lock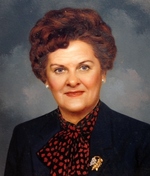 Velma Marie (Sappenfield) (Limbaugh) Lock, a former resident of Jefferson City, went home to be with the Lord on March 24, 2017, in Chatsworth, Ca.

Velma was born on December 20, 1926, in Henley, Mo. to John Rasho Sappenfield and Minnie Ethel (Jones) Sappenfield, both of whom preceded her in death. Velma was the youngest of seven children.

She was married on August 31, 1945, to Webster S. Limbaugh, Jr. They had two daughters, Linda (James) Yorio of Augusta, Ga., and Vicki (Michael) Palatas of Chatsworth, Ca. Webster and Velma were married for 37 years. In 1984 she married Clifford Lock, whom she had known since childhood.

After graduating from Eugene High School, she taught school for a year, receiving the teacher of the year award! Over the years, she was the assistant manager for Sears Mail Order stores in Jefferson City, Independence, and Clinton, Mo. She was a legal secretary, then an auditor for the Missouri Tax Commission for several years before retiring from the Missouri Bar Association in 1989. During those years she sold real estate part time.

Velma accepted Christ as a child and was always involved in her church, singing in the choir and teaching children's Sunday School classes at First Baptist Church of Jefferson City. In 1994, Velma and Cliff moved to Augusta, GA, where she lived for 15 years and was a member of Warren Baptist Church. She moved to Chatsworth, CA in 2009 to live with her daughter, Vicki, who became her principal caregiver.

She was proud of her ancestry and traced her lineage back to Abraham Musick and Sarah Lewis Musick to be in DAR where she served in several offices, including Regent of the Jane Randolph Jefferson Chapter from 1982-1984 and a sponsor for the Monticello chapter of CAR. In addition she was a charter member and President of the Sterling Chapter of the American Business Women's association in 1977. She was actively involved in the women's UCT auxiliary, becoming state president for a year. She enjoyed helping others. She volunteered at the Sheltered Workshop and was the first to take a meal or send assistance when she knew about a need.

In addition to her daughters, Velma is survived by her five grandchildren and ten great-grandchildren: Jamie (Mahlon) Andrews, Dexter and Jimmy; John (Ruth) Yorio, Lily, Josiah, Eli and Caleb; Nick (Marissa) Palatas, Vienna; Phillip Palatas, Alex, Natalia, and Anora; and Cameron Palatas; and many nephews.

She was preceded in death by her siblings: Esther (Johnny) Engelbrecht, Euel (Grace) Sappenfield, Leora (Earl) Hoskins, Bonnie (Ralph) Hale, Roselyn (Walter) Hammond, John (Mildred) Sappenfield, and by her husbands, Clifford Lock and Webb Limbaugh.

A Celebration of Velma's Life will be held at 1:00 p.m. Friday, March 31, 2017 at Hickory Hill Baptist Church, 12729 United Road, Eugene, Mo. Burial and interment will be at Mt. Carmel Cemetery in Eugene, Mo.

Friends and family are invited to a reception with Velma's daughters from 6:00 until 8:00 p.m. Friday evening at Cliff Manor Inn, 722 Cliff Street, Jefferson City, Mo.

In lieu of flowers, memorial contributions may be made to Senior Adult Ministry at the First Presbyterian Church of Granada Hills, 10400 Zelzah Ave, Porter Ranch, Ca. 91326 or The Gideon's International, PO Box 140800, Nashville, Tn. 37214-0800.

Funeral arrangements are under the direction of Freeman Mortuary.

Order Flowers