Obituary for James Morland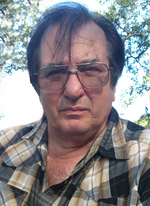 James August (Jimmy) Morland, 69, of Holts Summit, passed away Sunday, March 26, after a lengthy illness.

Jimmy was born in Jefferson City on September 1, 1947, to Virginia Darlene (Ousley) Morland and James Bedford (JB) Morland, both deceased.

On June 16, 1996, he was married to Judy (Baumbach) Morland, who survives.

A lifelong resident of the mid-Missouri area, Jimmy attended New Bloomfield schools. He joined the Navy in 1963 and "celebrated" his 17th birthday in Vietnam. After his discharge from the Navy, he worked in the construction field for his father, and others.

He owned the Silver Dollar Saloon, worked at the Missouri State Penitentiary, owned Show Me Used Cars, co-owned Judy's Cafe with his wife, and for the last 10 years transported traveler trailers from Indiana to dealers throughout the country. He also played in various bands with JD Wyatt and others, and then became the leader of The Southern Knights Band for many years. He and his wife also managed the Truman Lake Opry for a year and played with many well-known country stars.

Jimmy was a member of the American Legion, Roscoe Enloe Post 5, Veterans of Foreign Wars, Roy Sone Post 1003 and a lifetime member of the Disabled American Veterans.

Other survivors include: his daughters, Lori Carson and her husband, Thomas, of Holts Summit; Rainie Autrey and her husband, Steve, of Boonville; a step-son, Roger Baumbach and his wife Gale, of Murfreesboro, TN; three sisters; one brother; five grandchildren; and one great-grandchild, with another due in June; three step-grandchildren; five step-great-grandchildren with another due in June; and his mother-in-law, Beatrice Baumbach of Gerald.

He was predeceased by his parents, father-in-law, Erwin Baumbach, and a brother, Steven Jay Morland.

Visitation will be held at Freeman Mortuary from 4:00 to 8:00 Tuesday, March 28, 2017.

Funeral services will be conducted at 11:00 am Wednesday, March 29, 2017 in the Freeman Chapel with Pastor Joshua Hartley officiating. Graveside services with military honors will be held at the Mt. Pleasant Cemetery in Boone County.

In lieu of flowers, those desiring may make memorial contributions to the James Morland Memorial Fund c/o Mid-America Bank, 580 Karen Drive, Holts Summit, Missouri 65043.

Funeral arrangements are under the direction of Freeman Mortuary.

Order Flowers