Obituary for James Wells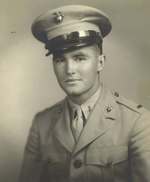 James Gordon Wells, 96, of Jefferson City passed away Wednesday, March 15, 2017 at Columbia Manor surrounded by his daughters.

Jim was born July 25, 1920, the son of the late John and Evelyn (Marshall) Wells in Flat River, Missouri. He was a graduate of Farmington High School, and later graduated from the University of Missouri in 1948 with a degree in Agriculture.

He proudly served our country as a Major in the Marine Corps in World War II.

In 1949, he was united in marriage to Bobbye Jane Luttrell. She preceded him in death in 2007.

Jim was employed as a milk inspector for dairy farms in the central Missouri area for 35 years until his retirement.

He will be dearly missed by his two daughters Sue Jerele and husband Jim of Columbus, Ohio and Patty Wells Puckett of Columbia, Missouri, and by his five grandchildren, Jordan (Matt) Berner, Joe (Jennifer) Jerele, Jacob (Lisa) Jerele, Josh (Jillian) Jerele, Harry Puckett, and by his five great grandchildren.

He was also preceded in death by his son, James Gordon Wells, Jr. in 1990, and a brother, Leroy Wells in 1999.

The family would like to thank the compassionate staff at Columbia Manor for their excellent care.

Visitation will be held at Freeman Mortuary from 1:30 p.m. until 2:30 p.m. Sunday, March 19, 2017.

Funeral services will be conducted at 2:30 p.m. Sunday, March 19, 2017 in the Freeman Chapel with Pastor Shay Roush, of The Crossing, officiating. Graveside services and interment with full military honors will follow at Riverview Cemetery in Jefferson City.

Those desiring may make memorial contributions to the Jefferson City Animal Shelter, 2308 Hyde Park Road, Jefferson City.

Order Flowers