Obituary for Vernon "Dale" Webb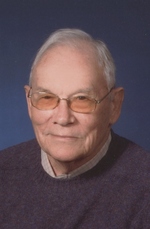 Mr. Vernon Dale Webb, age 85 years, of Jefferson City, Mo., died Tuesday, March 14, 2017 at his home.

Dale was born August 5, 1931 in Union Hill, Arkansas, the son of Lester and Gladys Nelson Webb. He was married on October 11, 1958 at East Prairie, Mo. to Janice Jackson.

A resident of the Central Missouri area since 1970, Dale graduated from Oil Trough High School (Arkansas) in 1949. He was a 1953 graduate of the University of Central Arkansas in Conway, earning a Bachelor of Science in Education. In 1974, he graduated from Central Missouri State University, Warrensburg, earning a Master of Science in Education.

Dale served in the United States Army from 1953 until 1956, attaining the rank of sergeant and serving in Germany.

He was an Industrial Arts, Driver Education and math teacher with Fatima High School in Westphalia; New Bloomfield High School; School of the Ozarks in Lake Ozark; Scott County Central High School; and Anniston High School, all in Missouri, for twenty-seven years prior to his retirement in May, 1983.

Dale was an active member of Grace Evangelical Free Church and a 19-year volunteer at the Habitat for Humanity Re-Sell Store.

Survivors include: his wife of fifty-eight years, Janice Webb; one son, Mark Webb and his wife Barb of Ash Grove, MO.; one daughter, Marty Basham and her husband Darryl of Olathe, KS; one brother, Vincent Webb and his wife Frieda of North Little Rock, Arkansas; three sisters, Marietta Gray of Star City, Arkansas, Lorena Paulette of North Little Rock, Arkansas, and Carolyn Smith and her husband James of Jacksonville, Arkansas; seven grandchildren, Thad Webb and his wife SooJeong of Seoul, South Korea; Lydia Webb of Springfield; Abigail Webb of Branson; Sarah Webb of Ash Grove; Samuel Basham of Grove City, PA; and Gretchen Basham and Meredith Basham of Olathe, KS.

Visitation will be at Grace Evangelical Free Church 3011 South Ten Mile Dr., Jefferson City, from 5:00 until 7:00 p.m. Friday, March 17, 2017.

Funeral services will be conducted at 11:00 a.m. Saturday, March 18, 2017, at Grace Evangelical Free Church with the Reverend Dr. Mark Kiekhaefer officiating. Graveside services and interment with military honors will be conducted at 11:00 am, Monday, March 20, 2017, at the Missouri Veterans Cemetery 5201 S. Southwood Rd., Springfield, Mo.

In lieu of flowers, memorial contributions are suggested to Habitat for Humanity, 1420 Creek Trail Dr., Jefferson City, Mo. 65109, or Hospice Compassus Foundation, 600 Monroe Street, Jefferson City, Mo. 65101.

Funeral arrangements are under the direction of Freeman Mortuary.

Order Flowers